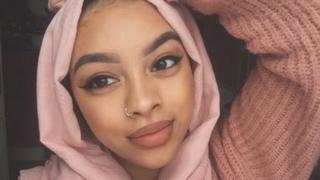 An uncle has been convicted of kidnapping, raping and slitting the throat of his niece before putting her body in a deep freezer.
Mujahid Arshid, 33, was found guilty at the Old Bailey of murdering Celine Dookhran, 20, and the attempted murder of a second woman.
Arshid, 28, snatched the women in July before taking them to a house in Kingston, south west London.
His co-accused, Vincent Tappu, 28, was cleared of kidnapping charges.
Both defendants were cleared of possession of a firearm with intent for allegedly using a Taser during the abduction, which took place on 19 July 2017.
Arshid has also been convicted of sexual assault charges against the second woman between 2008 and 2010.
Members of Ms Dookhran's family shouted "yes" when the verdicts were read out.
Arshid reacted by shouting that the surviving victim had "killed them all", while Mr Tappu – in tears – thanked the jury.
During the trial at the Old Bailey, Arshid told the jury it was "pure coincidence" he had carried out an internet search for "at what temperature does the human body freeze to death" weeks before Ms Dookhran was killed.
The court heard some of his internet searches pulled up information on notorious serial killer John George Haigh, who was convicted in 1949 of a number of murders where he had disposed of the bodies using acid.
Mr Arshid admitted carrying out the search but said it was because he had been wanting to start manufacturing and selling an acid-based product to unblock drains.
He said he was going to call the product "Haigh it's gone!", using a pun on the murderer's name which he described as "funny".