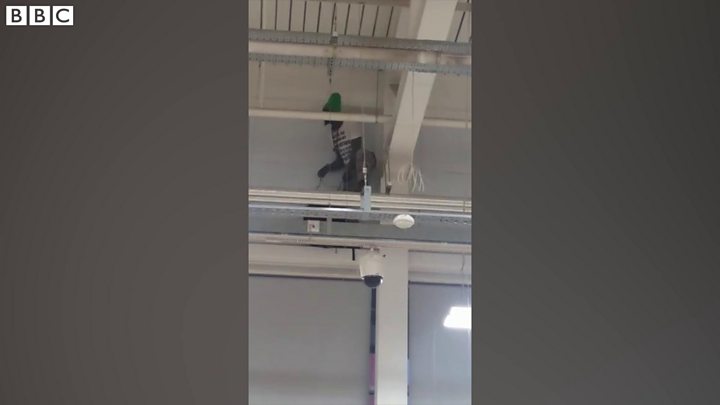 A security guard who claims he was "sacked for no reason" from Tesco has spent the night protesting in the supermarket's roof space.
He has been on the girders above the checkouts in Tesco Extra, Reading, for more than 17 hours, live-streaming on Facebook.
Shoppers were told to abandon their trolleys and leave the store as he climbed to the roof yelling.
Tesco said it was "assisting police with the matter".
In his online videos, the 46-year-old man claims he was falsely accused of stealing by the supermarket chain, which led to his sacking by security firm Total Security Services (TSS).
He said: "If Tesco think I'm going to walk away from this, they've got another thing coming."
In the latest video, he says he has been denied water for the past 12 hours and also apologised to shoppers.
"Sorry for some of you that are supposed to come here shopping in this store," he said. "It's inconvenient, sorry for that people but it's something I have to do.
"I've been protesting for the past six months and they [Tesco] know about it.
"Today, Tesco needs to come up here, and explain to me why I lost my job."
His wife is outside the Portman Road supermarket supporting him.
She told BBC Berkshire reporter Nick Johnson "he will not be coming down willingly" and they are prepared to "accept the consequences".
"He's been wrongfully accused of stealing," she said. "Tesco accused him, told his workplace and his workplace sacked him straight away.
"Police went through CCTV which took them 10 months to go through and said he was an innocent man and that it was somebody else.
"He's had no apology off Tesco, no apology off TSS, and this is why he's protesting now."
The store's management team is also outside but refusing to comment.
TSS has been contacted for a response.
Thames Valley Police is yet to respond to claims of the man's innocence.
The man has been protesting outside the supermarket with banners for six months.
The Tesco Extra West store was evacuated just after 18:00 BST on Thursday after the police received reports concerning the "welfare of a man".
Customers reported being told to abandon their shopping when the man began "yelling" from the ceiling, although they could not understand what he was saying.
A Tesco spokeswoman said the company was still establishing the circumstances of the incident but believed the man had not been directly employed by Tesco but was a member of security staff.
A statement said: "We're aware of an incident at our Reading West Extra store and are assisting police with the matter."